Back to The Park
Park Rules
General
Please restrict ball games to the Playing Field. Ball games are not permitted on the Touring Areas.
Noise & Anti-Social Behaviour
Out of respect for other guests, we kindly ask that noise be kept to a minimum after 10pm. There will be an increased level of vigilance from our Wardens and Security Guards this season to ensure guests are complying with the Park rules and pitching instructions. A continued breach of rules may result in guests being asked to vacate the Park.
No Smoking
We have a strict no smoking policy in all our Holiday Homes. Electronic cigarettes are also not permitted indoors.
Pitches
When setting up your touring caravan please locate the jockey wheel on the pitch number slab, as indicated at the time of arrival, or place the corner of your tent as close as possible to this point. Incorrect pitching may result in your being asked to set up again correctly. If you need any help, please feel free to ask.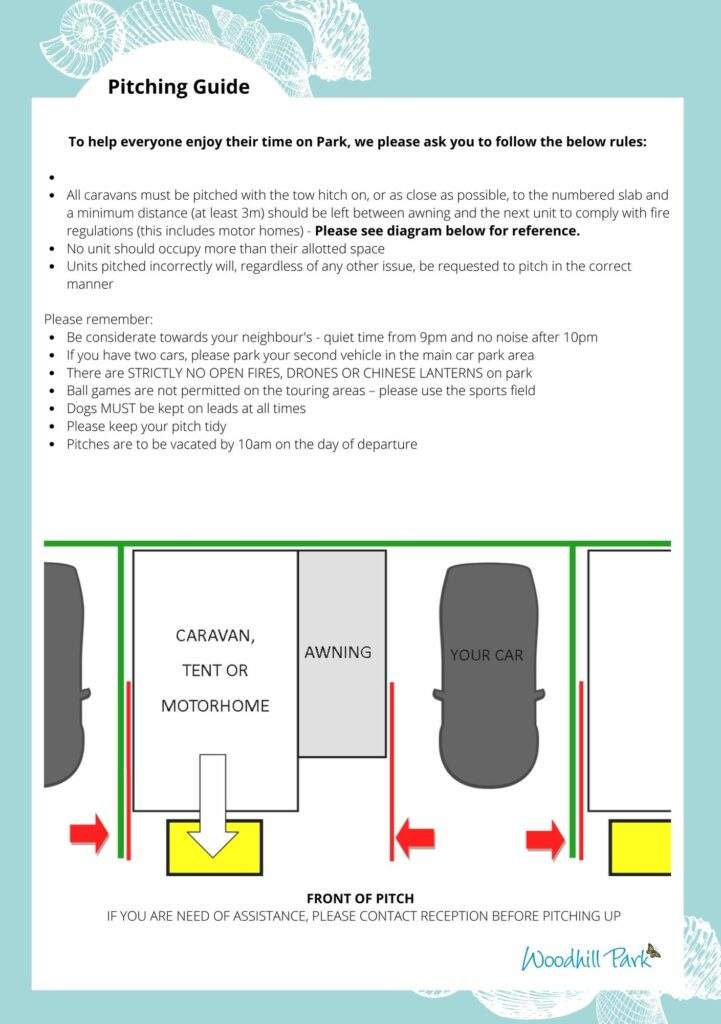 Cars
Only one car per pitch, all second cars must be parked in the car park.
Pets
Pets are NOT allowed in our Holiday Homes.
Dogs
Dogs are welcome in the designated Touring Areas only at Woodhill Park but must always be kept on leads and are not to be left unattended. Please clear up after your dog. Dog bins are located around the Park. Dogs may be exercised on the meadow field.
Carbon Monoxide Advice
Carbon monoxide poisoning poses a real threat when BBQ's (both gas and charcoal) are used incorrectly. We ask anyone enjoying one to follow this advice:
Ensure BBQ's are used well away from your accommodation. At no point take BBQ's into your accommodation, touring caravan, or tent. Once finished, ensure that your BBQ is properly extinguished.
Drones
For public safety and privacy the flying of drones at Woodhill Park is prohibited.
Fire Rules and Regulations
Please be aware that during periods of warm, dry weather, there is a heightened fire risk on Park. Please remember:
To dispose of cigarette butts safely - ensuring they have been fully extinguished
Do not leave bottles or glasses in direct sunlight
No open fires are permitted anywhere on Park
Never use a disposable BBQ indoors or in a tent
Never leave a lit BBQ unattended
Keep a bucket of water next to your BBQ
Remember to safely dispose of your BBQ and do not empty hot ash into refuse bins
Store gas cylinders outside, away from direct sunlight
Campfires, Fireworks, Fire Pits and Chinese Lanterns are STRICTLY NOT ALLOWED.
If you see or suspect a fire, immediately remove yourself from the area to a safe distance before raising the alarm by sounding one of the red circular bells located throughout the Park.
Assembly point is adjacent to the car park.